As is the case almost everywhere, a big-budget can land you in the center of everything or in near-total seclusion. In the Delaware River Towns, these two homes are among the best options in each category at the moment. One is within walking distance of everything in New Hope. The other is enveloped by a private, bucolic setting. Both have deep roots, though they've undergone considerable renovations. Which only makes the central question – stay in or go out? – harder to answer.
BUCKS COUNTY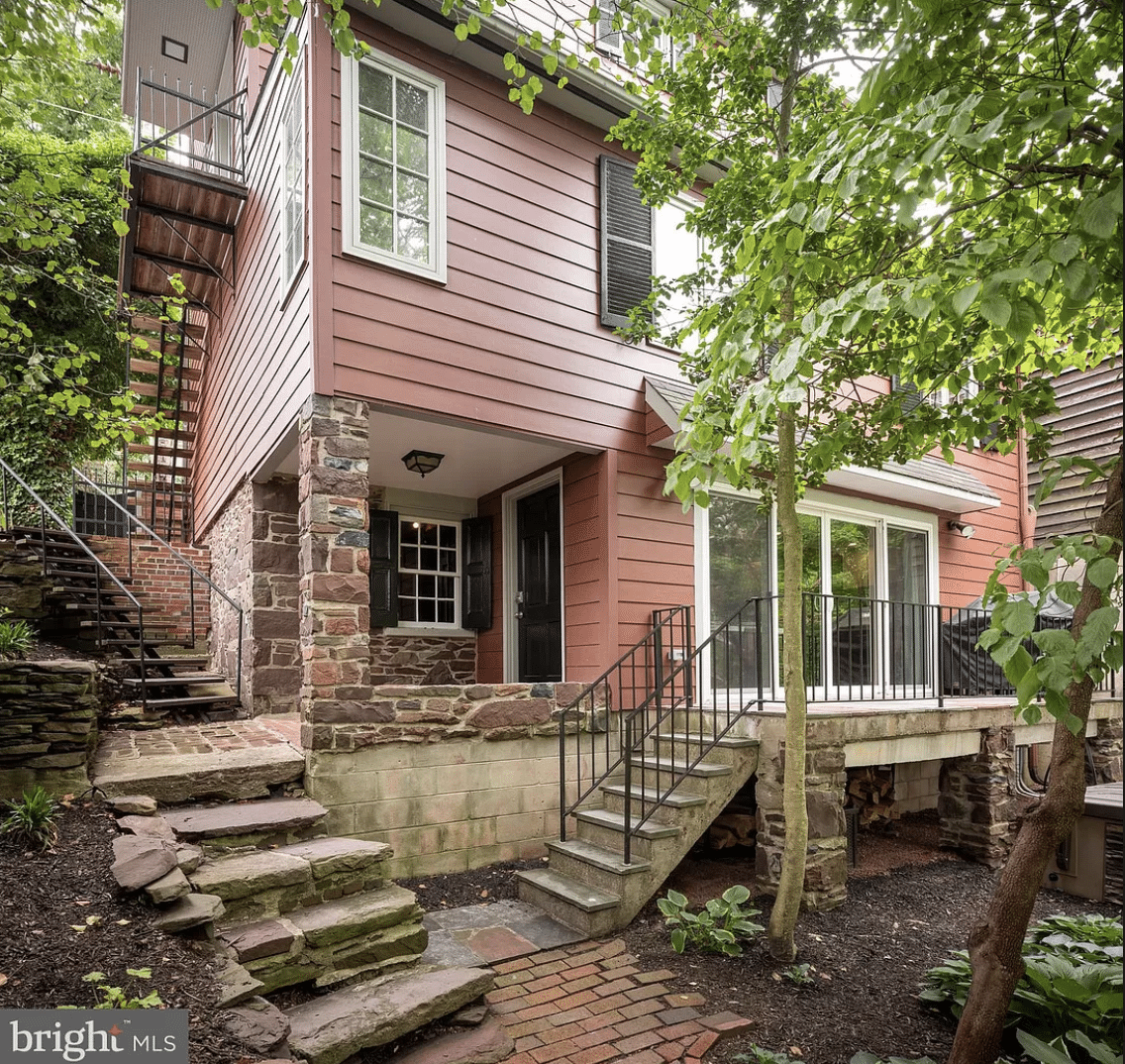 58 West Mechanic Street, New Hope | $895,000
A meticulously renovated 19th-century home, with three bedrooms and three bathrooms, at a coveted location.
Each of this home's four stories has been extensively renovated by the current owners. As a result, historic features – the home was built in 1800 – are complemented by modern amenities and custom flourishes, like the floor-to-ceiling bookshelves and wainscoting in the living room. (The heating and plumbing have been updated, too.) The kitchen, in particular, rivals anything you've seen on Instagram lately. Stone walls, wood beams, and bare floor joists frame a space that's at once filled with centuries of character and the latest home-kitchen indulgences. And yet, from the colored slate floor to the massive hearth, everything's in perfect harmony. The same thoughtfulness carries through the three bedrooms, all of which are en suite. From most windows, and the multi-tiered backyard terrace, you'll appreciate the views of a coveted location. The home sits at the south end of the Stockton Avenue bridge, in the heart of New Hope Borough. The Aquetong Creek runs along the edge of the property.
Size: 2,300 square feet
Price per square foot: $389
Taxes: $6,308
HUNTERDON COUNTY
105 Browne Station Road, Stockton | $1.055 million
A 1926 custom-built home, with four bedrooms and five bathrooms, on a 4.39-acre lot.
According to the realtor, this home was originally constructed as a speakeasy for former New Jersey Governor Arthur Harry Moore. He holds the distinction of being the state's longest-serving governor in the last century. (Which maybe had something to do with his underground activities during Prohibition.) Today, it's one of two homes located within a 1,200-acre conservancy. The home has been recently and extensively renovated, though vestiges of its original iteration remain, such as the wood-paneled dining room-slash-lounge area and a bowling alley. (Pause.) Yes, a bowling alley. Windows abound, flooding virtually every room with natural light and views of the lush grounds. There's also an airy artist studio next to the home with a glass garage door that offers further opportunity for blurring the lines between indoor and outdoor living. As for the grounds, there's a parterre garden, as well as a fenced-in paddock with a run-in shed.
Size: Not available
Price per square foot: Not available
Taxes: $13,386