When you live in the Delaware River Towns, you learn to train your eyes on the river following a heavy rainfall. But on September 1, no one expected the most dangerous threat to come from just outside their front door.
Late that afternoon, a downpour from the remnants of Hurricane Ida triggered a barrage of tornado and flash flood warnings from the National Weather Service across the region. Locally, the agency confirmed an EF-1 tornado, with wind gusts up to 100 MPH, struck Buckingham. The flash flooding was much more widespread – and deadly.
Nearly 10 inches of rain fell in East Amwell. Frenchtown recorded almost eight inches. And Doylestown saw more than six inches. Much of it fell over a matter of only a few hours, quickly overwhelming sewer systems and creeks large and small.
Across the region, drivers narrowly escaped rapidly rising floodwaters. Bucks County's 911 center received more than 5,200 calls between 3 PM Sept. 1 and the following morning, more than triple its normal volume.
Upper Makefield Fire Chief Tim Brewer said his fire company conducted 20 water rescues, mostly of drivers stranded in their cars on Taylorsville and River roads.
"We were out all night. We were in waist-deep, moving water. It was dark and we didn't know what was coming at us," he told The Bucks County Courier Times.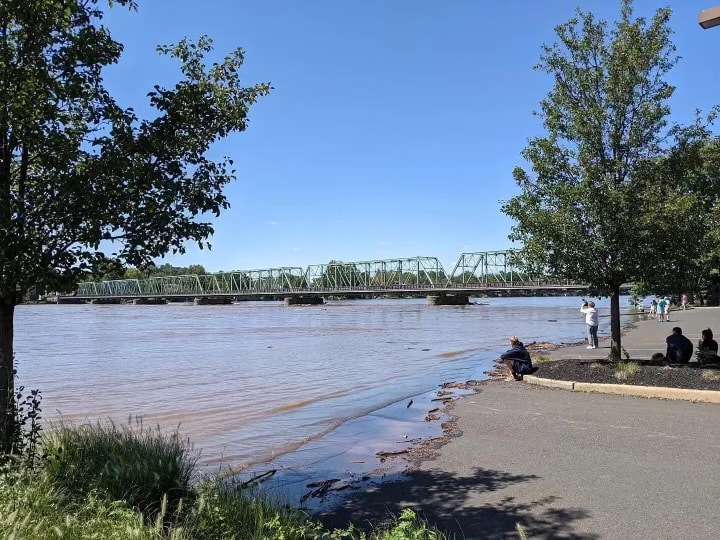 Early the following morning, Hillsborough Police found the body of 30-year-old Daphnee Francisca Lopez Del Bono, of Ringoes, in her submerged vehicle.
Among the most harrowing scenes unfolded in Lambertville, where torrents of water quickly consumed many streets, flooding homes and businesses and carrying away parked cars.
Arlen Sam Brown, who owns an art gallery and interior design company on North Union Street, which was ravaged, told NJ.com she was lucky to still be alive. She was trying to salvage the art in her gallery, but the floodwaters were rising too quickly. She fled to her MINI Cooper but drove into a "wall of water" that overtook her car.
She jumped into a friend's car, but it flooded too. Unable to open their doors, they escaped through the windows.
Brown spent most of the night on the second floor of a nearby home where a stranger took her in.
Michael Sullivan, who lives on North Main Street, said that "within a matter of seconds," the water in his basement was up to his waist. He and his wife watched their first floor flood too, the water rising up through the floorboards and pouring in from outside.
With the light of a new day, scenes of unbelievable devastation – roads, driveways, and foundations eroded, cars pinned against trees and buildings – began circulating on social media.
"This is a devastating and catastrophic natural event," Lambertville Mayor Julia Fahl told NJ.com. "It was a scary moment last night to watch our community fill with water."
Across the river, Bucks County Commissioner Gene DiGirolamo echoed the sentiment, saying, "I don't think it would be over the top to say this storm has been catastrophic as far as it related to Bucks County."
As residents and business owners began picking up the pieces of their shattered lives, everyone was keenly aware that the threat had not completely subsided. The river was due to crest that night, and the National Weather Service was forecasting moderate flooding.
Ultimately, the river peaked at a height of 13.39 feet at the New Hope-Lambertville bridge, largely sparing those along its banks. But the damage had already been done by then.