A Tuscan villa reproduction built in 2012, with three bedrooms and five bathrooms, on an 11.52-acre lot
A winding driveway leads to this meticulous reproduction of a Tuscan villa, which sits on just over 11-and-a-half acres but is surrounded by hundreds of acres of protected woodlands. While the home was built 10 years ago, and includes a number of energy-efficient features, such as geothermal heating and a propane-powered generator, prominent reclaimed elements like the wide-plank hardwood flooring and ceiling beams lend the home a deeper sense of character.
From the primary entrance, an arched-ceiling foyer with reclaimed-brick flooring leads to an open floor plan that includes a living room, dining room, and restaurant-caliber kitchen, all of which opens onto a sprawling patio that offers panoramic views of the property.
The first-floor master suite adjoins a private stone courtyard. The two other bedrooms are located on the second floor. Each has a Juliet balcony. There's also a safe room and a hidden storage area for valuables. And, in case you were wondering, there's ample room to land a helicopter on the turnaround in front of the home.
Size: 3,937 square feet
Price per square foot: $602
Taxes: $13,247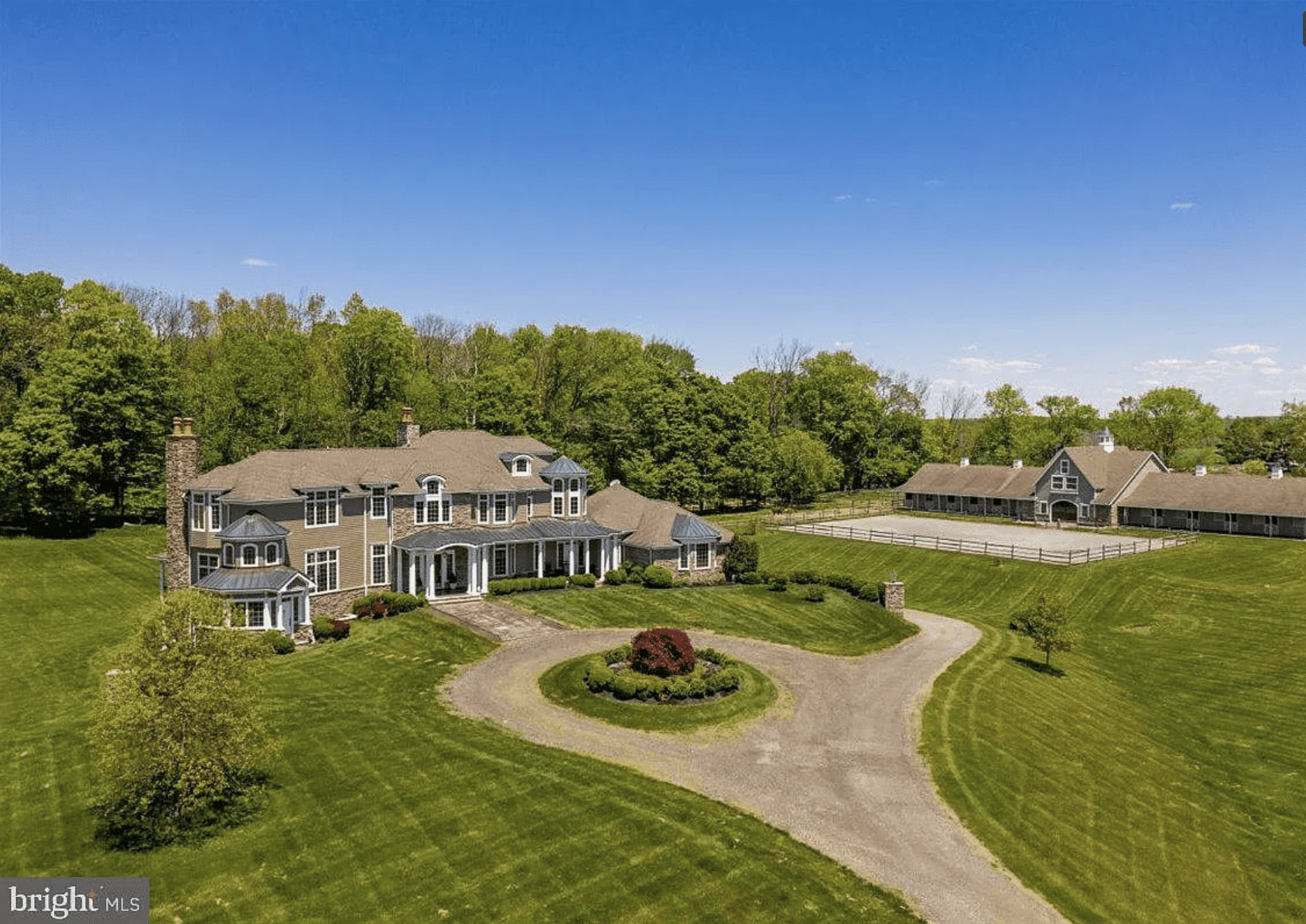 A 2004 house, with five bedrooms, eight bathrooms, and a two-story horse barn, on a 35.89-acre lot
This is, at more than 9,000 square feet, an unusually large home. That's apparent right from the two-story foyer and the adjoining library – yes, this home has its own library – with floor-to-ceiling built-in bookshelves and a large fireplace. (There are rows of bookshelves downstairs, in the finished basement, too.) But it's not without its more intimate spaces, as well. Like the living room, which includes a wet bar. During the day, it's flooded with sunlight. At night, the warm glow of another fireplace is sufficient.
The eat-in kitchen, similarly, is populated by an abundance of windows of various shapes and sizes. As is the master suite upstairs, which includes a sitting area that opens onto a balcony. There are three other fireplaces, including one in one of the other bedrooms.
A two-story horse barn was built at the same time as the home and in the same style. It features 19 matted stalls, each with its own automatic waterer, as well as a wash stall, feed room, tack room, and a heated office. Beyond the barn, there's an outdoor arena, eight fenced pastures, and a double run-in shed.
Size: 9,394 square feet
Price per square foot: $303
Taxes: $31,104