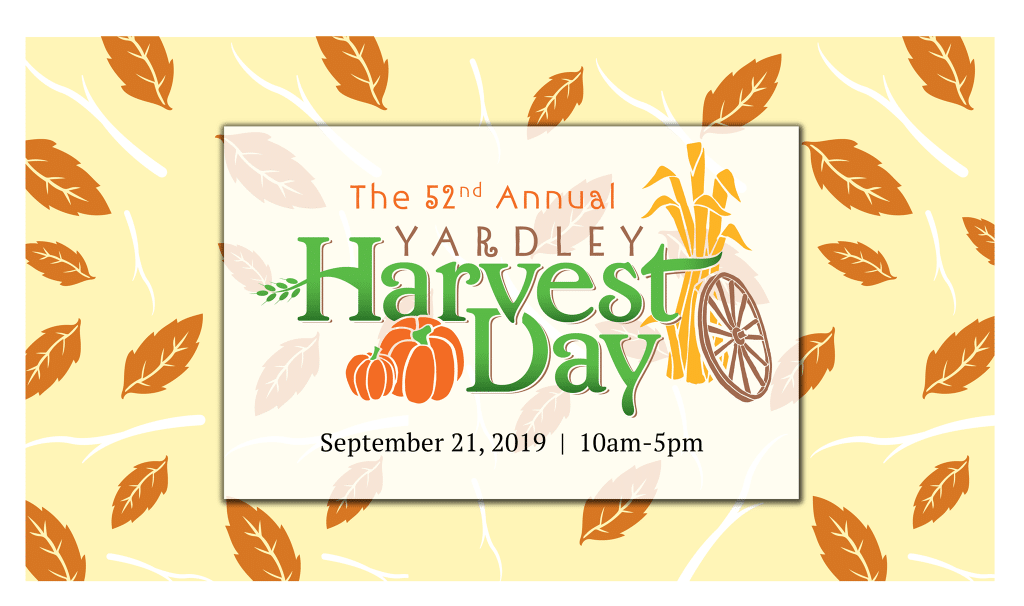 Yardley Harvest Day 2019
Yardley, Pennsylvania
September 21, 2019
10:00 am – 5:00 pm
What is Yardley Harvest Day 2019?
A time dedicated to celebrating the beautiful borough of Yardley, Pennsylvania. Harvest Day is back for its 52nd year! Downtown Yardley will be packed with artists, street vendors, live music, delicious food, and more. Be prepared a little bit of everything! This family-friendly celebration offers plenty of fun surprises and activities for guests of all ages that you don't want to miss out on. Last years crowd of around 10,000 people exceeded expectations, so be ready for another impressive group full of locals and visitors alike. Sponsored by The Yardley Business Association (YBA), the growing town of Yardley, PA is the perfect setting for such a bustling event. This incredibly close-knit Delaware River Town is a must-visit for anyone looking to explore our local area!
Where is it?
It shouldn't be hard to miss, but if you need directions, we've got you covered. The crowds will gather along Canal Street, Fitzgerald Sommer Field, E. College Ave, and S. Bell Avenue. Come with an appetite! Plenty of food vendors will be set up along the streets for you and your family to enjoy.
How is it?
Harvest Day is the signature event of this area and draws an incredible reception from locals and day-visitors. You may be surprised by just how many folks will be enjoying our beautiful local area! We hope you'll take time to enjoy it with them while supporting the growth of small businesses in Yardley, PA.
Mark your calendars!