Milford Alive 2019
Saturday, September 21st
12:00 P.M. – 8:30 P.M.
First Time at Milford Alive?
If it's your first time planning out your trip to Milford Alive, you're in for a pleasant surprise! This annual event is one of Milford, New Jersey's signature events of the year, pulling in a sizeable crowd. Celebrating the beauty of this quaint Delaware River Town, Milford Alive 2019 invites locals and visitors alike to join in on the fun! There will be plenty of free activities to keep you and your friends & family busy all day.
What Activites Should You Expect?
Up and down Bridge Street, you'll find yourself surrounded by a variety of vendors & attractions, all while tuning into an all-day set of live music. There will be seven bands playing rocking out back to back, so get ready for dancing! Other then the popular live music, the list of attractions is calling your name! Classic cars, face painting, a caricaturist and much more will be in attendance for willing adults. Over at the Kids Corner, expect a Speed Pitch, Tea Cup Rides and of course a Moon Bounce. Let's be real, is it even a real festival without a giant inflatable bouncy house?
Will There Be Other Events?
Not interested in the bouncy house or getting your face painted as a lion? No worries. Milford Alive 2019 has a full day of events scheduled including the famous bed race, a live animal show, local speakers and of course fireworks to finish off the day! Get ready for the big finale, you don't want to miss it.
Keep in mind the events/activities discussed here are just a start to what you'll be seeing in Milford on Saturday, September 21st. Check out the full schedule below, courtesy of Milford Alive.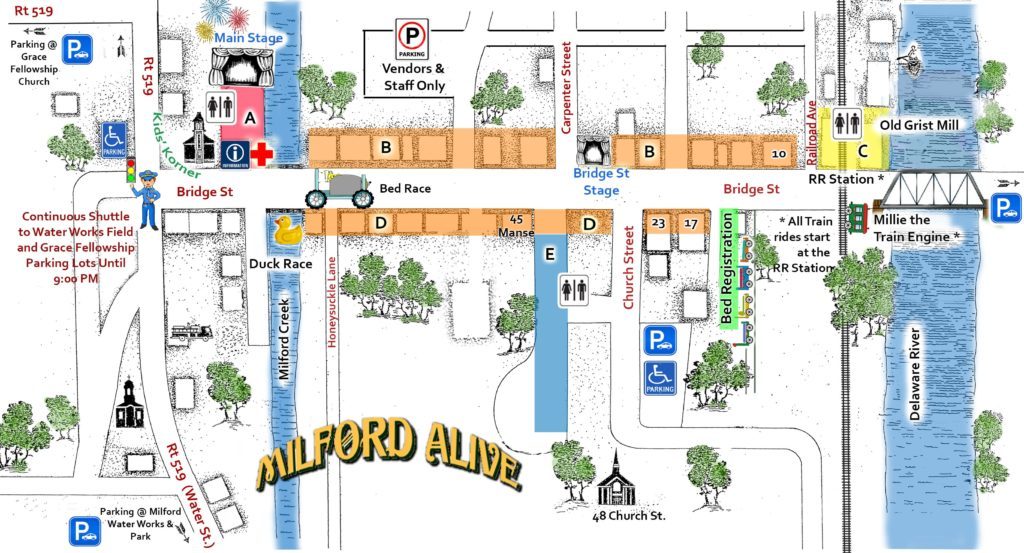 Live Music Setlist
Events & Attractions Schedule
Events

Location
12:00
Milford Alive!
Opening Ceremonies
Bridge St. Stage
12:15
Del Val Jr. Terriers Cheerleaders
Riegel Ridge Rams Varsity Cheerleaders
Bridge St.
TBD
Puppet Show by the River Union Stage
Kid's Korner – Near Area A
12:30 – 1:30
Bed Race Registration
5 Bridge St. Driveway – Across from the RR Station
1:45
Local Speakers
Bridge St. Stage
2:00
!!! Bed Race !!!
Winners announced immediately afterward
Bridge St.
TBD
Puppet Show by the River Union Stage
Kid's Korner – Near Area A
4:00
Eyes of the Wild – Live animal show
Bridge St. Stage
5:00
Milford PTO Duck Race
Milford Creek Bridge
5:30
Duck Race Winners Announced
Main Stage – Area A
8:15
Fireworks
Area A

Attractions
11:30 – 5:00
Millie the Train Engine Train Rides
RR Station/Mill – Area C
12:00 – 5:00
Caricaturist
Area D (adjacent to the Manse)
Classic Cars
Area E
Face painters
Kids' Korner – next to Area A
Food, art, service, and vendors
Areas A, B, C, D, E
"Pass it on" Art Quilters
First United Church of Christ,
48 Church St.
Photo Booth
Area D (adjacent to the Manse)
County Sheriff Child ID
45 Bridge St. – Area D
4th Pennsylvania Battalion/ 5th Pennsylvania Regiment encampment
Mill – Area C (Note: Musket blanks may be fired)
12:15 – 8:00
Live Music
Main Stage – Area A
12:00 – 8:00
Moon Bounce, Speed Pitch, Tea Cup Rides
Kid's Korner – Near Area A
12:00 – 8:30
Food, art, service, and vendors
Main Stage Lot – Area A