Condé Nast Traveler named the coolest Airbnb in every state, and an architectural marvel in Lambertville made the list.
Of the property, the magazine said, "Architectural buffs and 'Mad Men' obsessives alike will find plenty to love in this three-bedroom mid-century modern house. Highlights include wall-to-wall windows, a sunken living room with an abstract hanging mobile, extensive record collection, and, of course, that distinctive wavy roofline."
Dubbed "The Wave Lambertville" by the home's owner, it sits amid a secluded, 10-acre property on Goat Hill Road, about two-and-a-half miles from downtown Lambertville.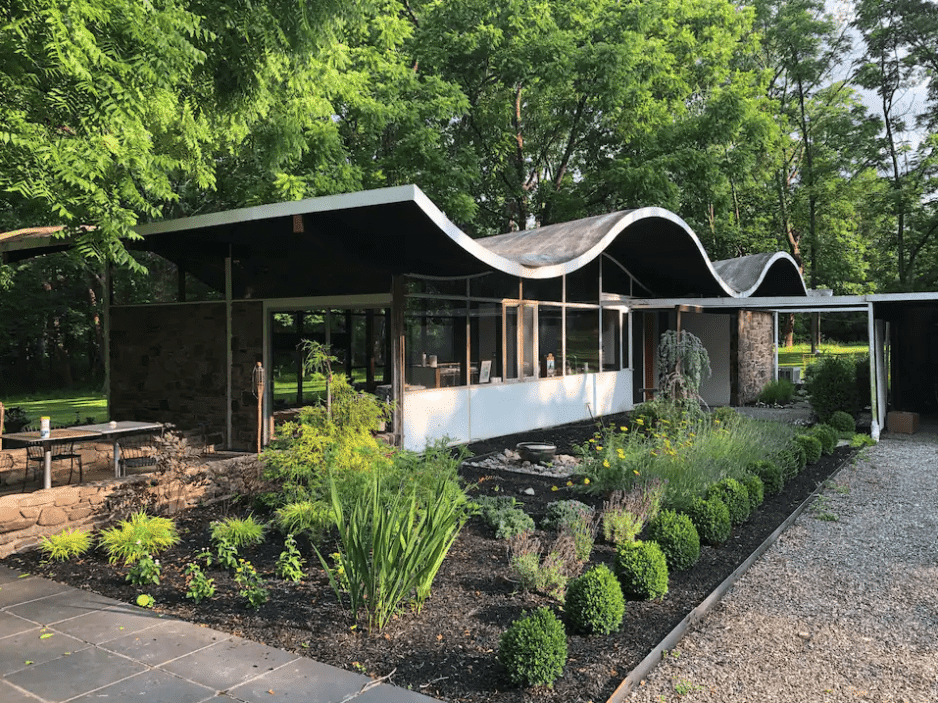 The one-of-a-kind home was designed and built by the late architect Jules Gregory, who used it as his own residence, according to a New York Times article from October 21, 2010.
"The house, on lightly wooded land, was built with natural materials, like fieldstone from the property and Pacific Northwest fir and pine," the Times article reads. "Thanks to the enormous sheets of glass that serve as windows and walls, the natural surroundings are visible from every room. Most of the interior walls are not full height, so the flowing fir ceiling appears to float above the rooms."
At the time the profile appeared in the Times, all of the lighting and furniture in the home was designed by George Nakashima. However, the home has been on the market multiple times since then.
While the undulating roofline – meant to give the appearance of an enormous pair of wings – is arguably the home's most distinct feature, the abundance of windows and open-concept floorplan also contribute to home's highly distinctive interior. Natural light shines in from every angle, and virtually any vantage point offers a view of the surrounding landscape.
The property also includes a guesthouse, which Airbnb guests do not have access to. It once served as Gregory's studio.
Gregory is also behind a mid-century modern New Hope home that recently sold for north of $3 million. While the New Hope home is all sharp angles and clean lines, it does have a wealth of windows with pristine views of the surrounding countryside like the Wave.
Is your curiosity piqued yet? A night at the three-bedroom, two-bathroom Wave is going for $465. You may want to book sooner rather than later because demand's likely to skyrocket once Condé Nast Traveler's article gets around.