The Corner in Flemington, New Jersey, is unlike any store you've ever been in. In the front, you'll find a meticulously curated home décor and gift shop filled with all kinds of things you never knew existed but now can't live without. In the back is a photography studio similar to what you'd find in a New York loft where a high-profile ad campaign is being shot.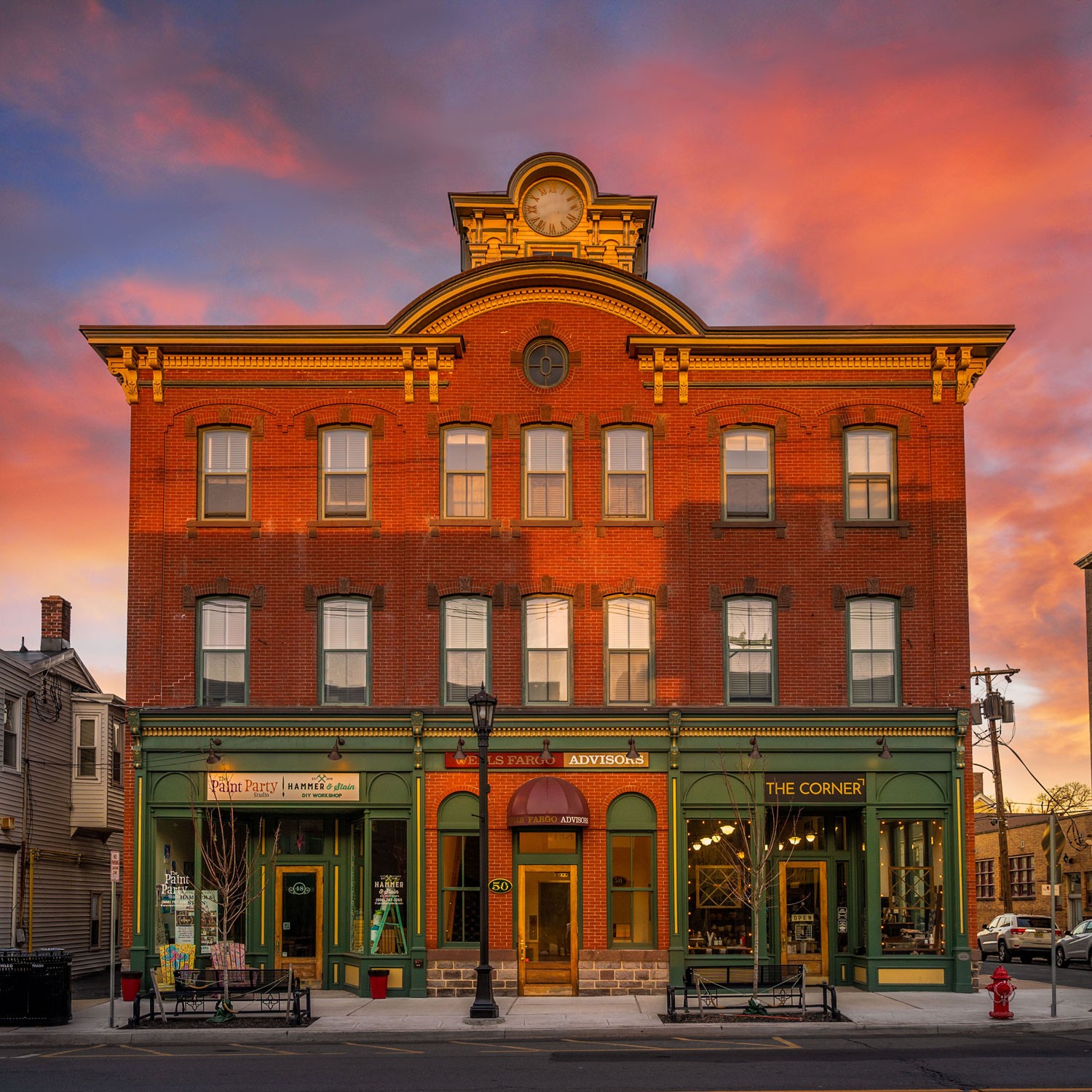 It might seem like an odd combination, but in many ways The Corner represents the next evolution of the small, independent shop. Rather than try to compete with the chain stores and Amazons of the world, the most notable ones have been distilled down to pure reflections of their owners' enviable personalities and tastes, selling a lifestyle more than any specific product.
Dave and Ally Norton, the couple behind The Corner, met in Virginia, where Dave is from, and bought an old house in Flemington, where Ally is from. When she isn't scouting for their shop, she's handling the styling for Dave's studio clients. At home, creativity mostly takes a backseat to parenting a pair of toddlers. In other words, surviving.
Here, Dave shares a glimpse into their Sunday.
Repeat after me
Sundays are the warm-knit blanket that restores our family's battery back to 100 percent. Sure, they can be a little hectic with two toddlers, a couple of dogs, and three cats, but that's what Ally and I signed up for. I do, however, need to remind myself of that quite a bit. I've even come up with a mantra: "This is what I wanted. This is what we wanted. Chaos fuels me. Caffeine is my guardian angel."
My little helper
Normally, Rosie, our three-year-old daughter, crawls into our bed overnight. Neither Ally nor I wake up when she does. Maddox, our son, still sleeps in a crib. He's the rooster that cock-a-doodle-doos us back to reality in the early morning. I trudge downstairs with Rosie while Ally grabs Maddox. If it didn't rain or snow, I'll have Rosie grab the newspaper from the front walkway. She's big into helping. And don't you dare refuse it. I've learned that lesson.
Skip breakfast
Next, we set up the kids with breakfast and pop on Spotify. We're trying to get better about putting on music instead of the TV. My wife and I will eat later; we're both intermittent fasters. It's like a cheat code if you want to shed a few pounds. It takes a little extra mental strength, but I got used to it quickly. Now I don't even think about it – most of the time. Sometimes, I admit, I indulge in a little late-night ice cream, but I don't flagellate myself for it.
The dogs walk me
Daylight begins to seep into our house, and I'm off to walk the dogs down Main Street. Maddox just got his first-ever haircut at AM Salon, which is just up the street from The Corner. Later, I'll grab some sandwiches for lunch at Main Street Bagel. But for now, I'm letting our large Labrador Retrievers lead the way. As if I have much choice. I'll drop the dogs off at home, then run back out for coffee at either Hardy's Coffee Bar or Factory Fuel Co. It's a special treat we usually reserve for Sundays.
Always strategizing
Once we're caffeinated, Ally and I will spend some time talking about the upcoming week for The Corner. Sundays are usually our one and only day off together each week, but being small business owners means you're never truly off. At least, that's what it means to us. However, having our shop and studio in the community where we live makes it easier for us to go all in. So does having the support of Flemington Borough's elected officials and the Flemington Community Partnership.
Football first
The afternoon kicks off with a nap for the youngest and some football for the rest of us. Ally is a Giants fan. I root for the Vikings. Rosie's still on the fence about the whole thing, but she's indulging us for the time being. After pretending to pay attention to the first quarter, I'll reach for my laptop and do some editing for my studio clients.
Business and pleasure
A little later, I meet up with a family to go over their photos from a recent portrait shoot at The Corner. We like to make these reveals feel special, so we'll set out a cheeseboard and some wine. We always put them together ourselves until we discovered Meta Café in Lambertville. Now, they're our go-to for cheeseboards – and sandwiches, when we're in the area.
A drive and then dinner
As dinnertime approaches, we head out to our fenced-in backyard for a bit so Rosie can ride her new Power Wheels Jeep around. There's peace of mind in knowing she can't make a run for it. The kids are in their happy place eating chicken nuggets for dinner. Ally and I treat ourselves to takeout from Matt's Red Rooster Grill. It's one of our favorite restaurants. We feel fortunate that it's just a couple blocks from our door.
Me time, at last
We put Maddox to bed at 7 PM and then Rosie around 8:30 PM. Ally and I rarely last much longer. I crawl into bed and pick up my book. I mean, my phone. But there's a book in my phone. I'm always in the middle of some book. At the moment, I'm wrapping up Who is Maud Dixon? which has been a wildly entertaining and extremely fast read. And I think I've figured out the ending.