sun18jul9:00 amsun1:00 pmFarmers' Market9:00 am - 1:00 pm Hunterdon Land Trust, 111 Mine St, Flemington, NJ 08822-1573, United StatesEvent Type :CommunityEvent Type 2:Flemington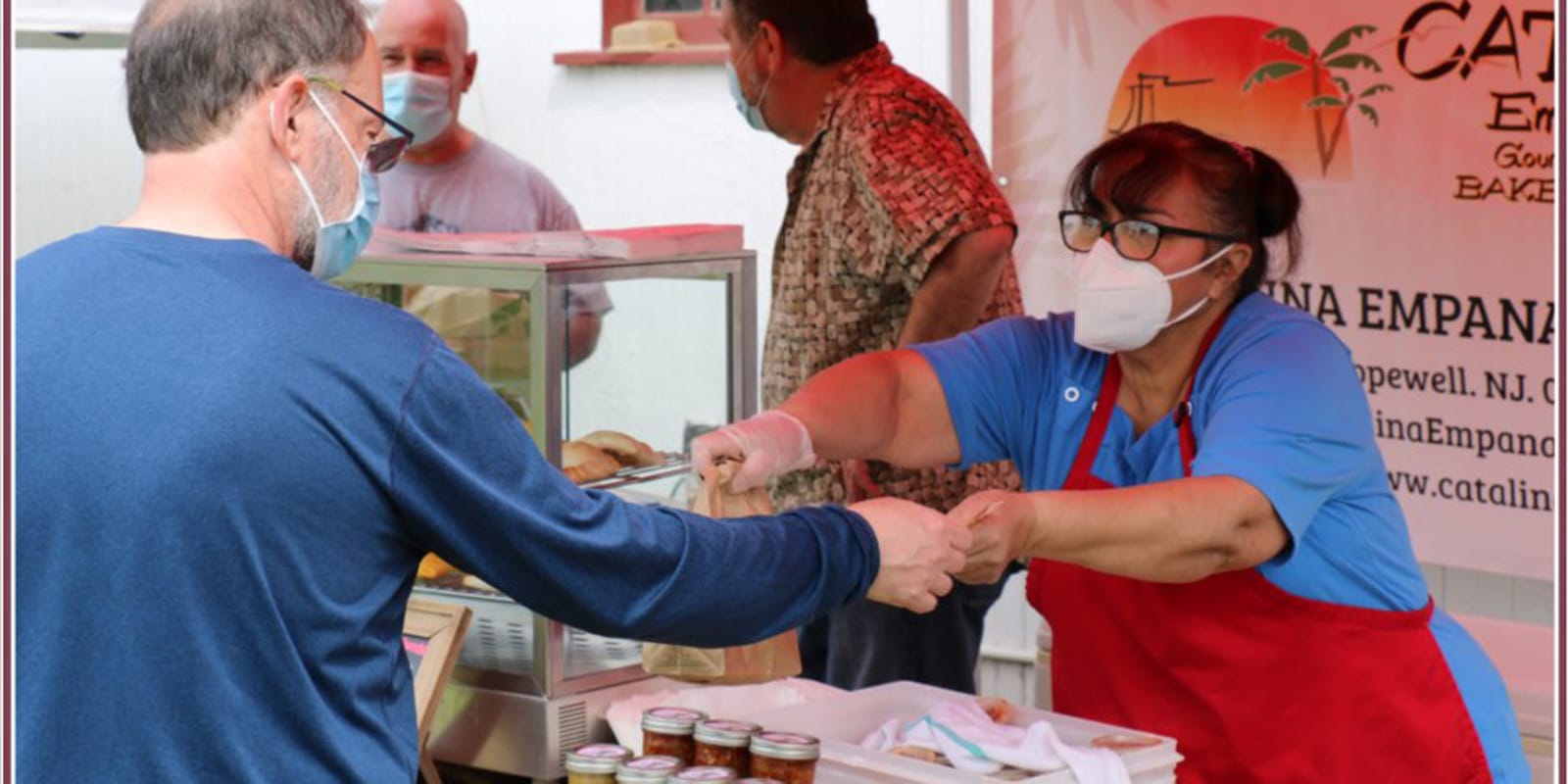 Event Details

A bounty of your favorite local summer foods will highlight this Sunday's Farmers' Market at the Dvoor Farm. We will be open from 9 AM to 1 PM at 111 Mine St. in Flemington. Make sure to include us in your weekend plans!

Here's what you need to know about this week:

Apple Ridge Farm: Artisan breads and hearty pastries.

Aquasprout Farms: An aquaponics farm with fresh produce including lettuce, Swiss chard, kale, and tomatoes.

Barking Good Bakery: will have handmade and healthy treats for dogs and cats.

Bobolink Dairy & Bakehouse will have a tasty assortment of award-winning cheeses, fresh-baked breads, and grass-fed beef.

Bubbly Goat will be bringing some soaps that are perfect for summer: cool cucumber and watermelon thyme. There will also be lotions to match. Stop by and try a sample.

Burek by Zeni: One of Chef Zeni's specialties is returning to the market this Sunday: moussaka! Made with the freshest ingredients, you are going to love this Mediterranean treat. You'll also find a delicious assortment of bureks — phyllo dough stuffed with meats, cheese, and vegetables — at Chef Zeni's stand.

Cabbage Throw Farm at Comeback Farm: Summer flavors are here at Cabbage Throw Farm at Comeback Farm! Heirloom tomatoes, summer squash, basil, cucumbers, dill, and green beans. Make sure to stop and check out what juicy, organic fruits are available from Comeback Farm! Everyone loves a classic BLT, but it's even tastier topped with a fresh french onion dip! You can find red & yellow onions and shallots along with garlic to whip up your own combination of sautéed onions with chopped scallions, sour cream, lemon juice, olive oil, salt, and pepper. Also available this weekend: lettuce, romaine, spring mix, escarole, fennel, beets, carrots, kohlrabi, purple top turnips, cabbage, herbs, sunflowers, and more.

Catalina Empanada: A selection of flavorful baked empanadas including beef, chicken, spinach with cheese, mushroom with cheese, Havana, vegan, and chorizo. Catalina also has freshly made salsas.

Fieldstone Coffee Roasters: is brewing up your favorite organic teas and coffees. Stop by for the perfect cup of pick-me-up on a Sunday morning. For faster service, you can preorder today via this link at Fieldstone's website and use code: Flemington at check out. Fieldstone will bring your order to market.

Fired Up Flatbread Co. returns to our market with its delicious variety of flatbread pizzas made with farm-fresh ingredients. Enjoy one at the market or take a few homes and treat your family to the tastiest flatbread pizza around.

Gorgeous Goat Creamery: will have a full line of dairy products at the market this week. What are you going to pick up? Creamy chevre? Snackable feta? Delicious goat milk? They will even have a few tubs of their newest product: goat's milk yogurt. Shop early before they sell out.

Griggstown Farm is not able to attend this Sunday's market.

Neshanic Station Apiaries: will be busy bees gathering up its liquid gold this weekend, so it won't be at the market this Sunday. However, Neshanic will return soon with its harvest of honey for you to enjoy!

Norz Hill Farm: Fresh vegetables and fruit, eggs, milk, and more. Norz Hill also accepts New Jersey SNAP (Supplemental Nutrition Assistance Program), NJ WIC, and the Senior's Farmer Market Nutrition Program benefits.

Pickle Licious: Pickles, olives, and sun-dried tomatoes.

Pretty Bird Farm: July marks the start of Gladiolus Season at Pretty Bird Farm! You will find them in our bouquets or can pick your own assortments by the stem at the market! Did you know that "Gladiolus" is the final winning word that won the first national spelling bee in 1925?! Gladiolus comes from the Latin word for sword. The ancient Greeks believed the flower sprang from the ground from the blood of Hyacinthus, a lover of the god Apollo who was accidentally slain by a discus. If you would like to browse its full list and place an order to pick up at Hunterdon Land Trust, email prettybirdfarm@yahoo.com.

Purely Farm will not be able to attend the market this Sunday.

River Lea House Garlic bulbs (peeled and freeze-dried) healthy black garlic, spices, pickled garlic (Garlickles®), hummus, pesto, garlic sprays, and specialty butters such as Garlic butter and VutterTM (a vegan alternative to butter).

Sweet Valley Farms has sweet Jersey corn, peaches, and other seasonal fruits and vegetables.

Two Barn Farm: Make sure to stop by for a delicious variety of local produce. It also has popcorn.

Unionville Vineyards: An East Amwell-based vineyard offering a selection of fine local wines.

Untamed Ferments: Naturally fermented beverages such as kombucha, kvass, probiotic lemonade, and switchel.

Wildspawn Mushrooms: A tasty array of mushrooms including shiitake, lions mane chestnut, white beech, king oyster, blue & yellow oyster mixes, and pheasant back mushrooms.

Will's Amazing Vegan Burgers will not be able to attend our market this Sunday.

WoodsEdge Farm: Llama, alpaca products, honey, and yak. If you are interested in steaks, please email the farm at info@WoodsEdge.com, and it will bring a selection of cuts.

Most farmers accept credit cards. There's plenty of free parking. Masks are welcome but not required. We encourage seniors and our more vulnerable population to shop early at our market.

Farmers' Market sponsors are: Basil Bandwagon Natural Market, Northfield Bank, Thomas McMillan — Callaway Henderson Sotheby's International Realty, Hunterdon Healthcare, McPherson & Newland Insurance, and Matt's Red Rooster Grill.
Time

(Sunday) 9:00 am - 1:00 pm
Location

Hunterdon Land Trust

111 Mine St, Flemington, NJ 08822-1573, United States