A Lambertville artist is reimagining a historic landmark building in town that's been mostly neglected for the last 50 years.
The Strand Theatre opened in 1915 and operated as a movie theater for the next 54 years. It was closed following a fire in 1969. Not long after, Finkles Hardware converted the nearly 5,000-square foot building into a warehouse. It remained as such for the next 52 years.
Kelly Sullivan envisioned renovating the building and transforming it into a multipurpose space "designed to host corporate and client meetings in a highly creative and professional environment combined with visual, musical, and performance arts," according to a press release.
She began the planning board application process in 2020 after securing a purchase option contract from Finkles for the Strand. The process was stalled with the onset of COVID-19, but Sullivan ultimately received all the necessary approvals from the local governing bodies. With that, the enormous task of emptying the building began, a process that took months.
Sullivan, who maintains a studio above The People's Store, on North Main Street, closed on the building last November and promptly began renovating. She's been documenting her progress here.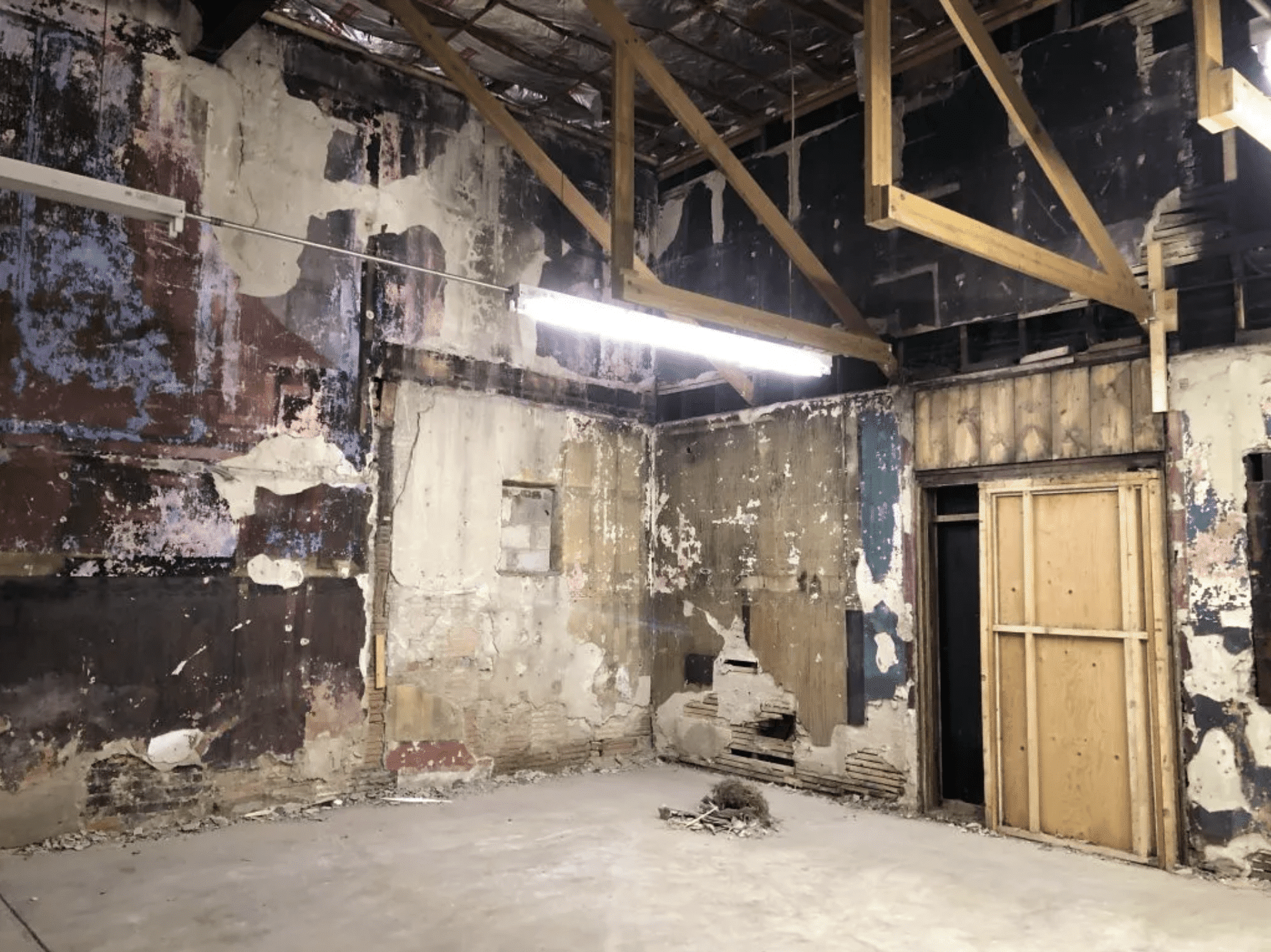 On December 12, she posted: "After two years of contracts, negotiations, city planning boards, historical commissions, and a minor litigation snafu, we are delighted to share the old Strand Theatre is under our care and ownership. She will shine again, in new and delightful ways."
Her most recent post as of this writing included a link to a photo gallery by Stephen Harris. Close up, the interior still largely resembled ruins, though the mess of demolition had been cleared, exposing a vast, wide-open space – along with architectural remnants of the original structure.
"The architect is pouring even more magic into the assembly space plans and I could not be more inspired by the possibilities this old building holds," Sullivan wrote.
Said architect is Michael Farewell. He's been refining Sullivan's conceptual drawings of the Strand's next iteration, which will include a large lobby with an art wall mezzanine, an assembly space fitted with surround presentation capabilities, dressing rooms that double as breakout/meeting rooms, and a live/work two-bedroom apartment that will house Sullivan's painting studio, according to the press release.
"The great potential of the project is not only to save the Strand Theatre through restoring its grand historical façade and urban presence, but also, in allowing the audience to pass through that historical scrim and into a new dynamic space, to create an experience of the fine and performing arts in a contemporary setting," Farewell says.
Strand Arts: An Enterprising Art House, as Sullivan has dubbed it, is expected to open in the spring of 2023. At which point, Lambertville Mayor Andrew Nowick says, it will "once again be a destination for Lambertvillians.
"And not only will the Strand enrich the local community, but it will no doubt draw many visitors to the city," he added. "Private vision, public good — this is the kind of project mayors dream about."