Lambertville-New Hope Winter Festival
January 18 – 26, 2020
---
And just like that, the holidays are over. The silence can be deafening after weeks of partying—and little else but three months of winter to look forward to.
But, for those of us here in the Delaware River Towns, it's not as bleak as it may seem. In fact, hope is on the horizon, and it comes in the form of the Lambertville-New Hope Winter Festival, which opens January 18 and runs through Jan. 26.
In years past, we've honed in on the chili cook-off because it epitomizes everything we love about the winter festival: hearty food, cold beer, and lots of engaging neighbors crammed into a noisy bar on an otherwise desolate, midwinter Sunday afternoon. But we've been shortsighted because there's so much more to the festival. These are a few other events we're excited about.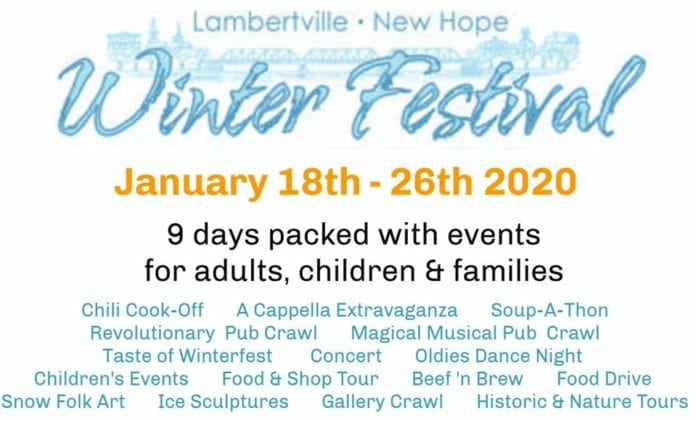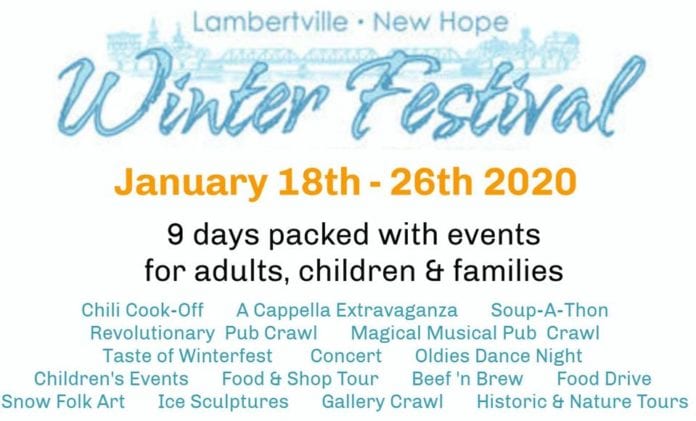 Jan. 21, 1 PM-4 PM
Over the course of a 15-minute walk from Lambertville to New Hope, you're likely to pass a couple dozen restaurants, each with its own distinct atmosphere and cuisine. How are you supposed to decide? The easy answer: don't. Instead, buy a ticket for this tour and sample dishes from several different stops, including El Tule, Caffe Galleria, Salads Smoothies Bowls, the Logan Inn, and Salt House. Think of it like an exaggerated dim sum sampler.
Jan. 23, 7 PM-9 PM
If you prefer your dining to come with less effort, it won't get any easier than the Taste of Winter Fest, which will feature more than a dozen restaurants, shoulder-to-shoulder, plus Unionville Vineyards and River Horse Brewery. While you nosh, magician Ran'D Shine, a recent guest on Penn & Teller: Fool Us, will be working the room. Be conscious of sensory overload. It's real.
Jan. 25, 12:30 PM-4:45 PM
Even if you're a veteran of the pub crawl, you've never been on one like this. For starters, you, the crawler, decide where you want to go. Second, come dressed as a hippie plucked straight out of the sixties. (You'll feel out of place if you don't.) And last, be prepared to sing and dance—a lot. Every participating location will feature a different local musician playing their favorite songs from their favorite pop artists. Think: Lady Gaga, Elton John, and Billy Joel.
Jan. 18, 10 AM-2 PM
At the end of the day, what matters most to a parent is making sure the kids are entertained—because, then, it means they're off the hook. Music Mountain is that magical place. In between show times (Disney's Frozen Jr. Adventure), there will be a slime booth, a tattoo-painting station, and a Frozen photo booth. Rest assured, the little ones will be bouncing off the walls, but at least they won't be your walls for a couple precious hours.