Valentine's Day? Seriously?! Yes, seriously. Need we remind you just how hard a dinner reservation is to come by when you leave yourself anything less than a month to make it? And these may just be the most coveted seats throughout the Delaware River Towns come Valentine's Day (which falls on a Friday this year, adding another degree of difficulty to your planning).
Forget the picturesque views of the Delaware. It's going to be too dark to appreciate them. Even without them, the ambiance at the Black Bass is better than most. Cozy nooks framed by stone walls and bathed in dim lighting fuel a sense that you've discovered something that few are privy to, even if you've been here a bunch of times before. It's all but inevitable that you'll lapse into a hushed conversation and forget that you're only a few miles from home.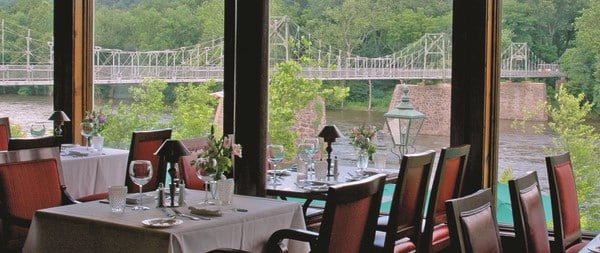 Few outside of Lambertville were wise to the genius of Rick's. And yet, when it closed after 13 years, there was an obvious void. Fortunately for us, its chef/owner, Alex Cormier, was lured back to town by his business partner, Donna Painter. Their new restaurant, Broadmoor, is a small, modern space on North Union Street. The menu is at turns modern American, Italian, and French. It's also more upscale than Rick's was. But it's undeniably Cormier, which is to say: immensely comforting.
Across the river, in a similar-looking and -sized restaurant that sits just outside the fray of New Hope, chef/owner Rodger Marsh is meticulously churning out the kind of thoughtful menu that entices a diner to want to step out of her cozy comfort zone and eat a little adventurously for the night. The rabbit tagliatelle, for example, features a scratch-made ragu and pasta. The duck carpaccio is cured in-house and paired with an addictive pistachio-orange pesto. Each and every dish begs to be shared, which is just what you're looking for on the biggest date night of the year.
Few restaurants out this way are as dependent on local ingredients or as consistently inventive as the Lovin' Oven is. Here, meals are described as nourishing. Dishes are as generously portioned as they are good for you. If that raises some red flags for you, we promise it'll have the opposite effect on your partner, who, in case you missed all the not-so-subtle hints, resolved to eat less meat this year. And, anyway, trust us; the Lovin' Oven is where you want to try vegan for the first time.