When Roger Byrom steps out of his farmhouse in Headquarters, a village between Sergeantsville and Ringoes, in Delaware Township, New Jersey, to tend to his flock of sheep, the surrounding landscape that unfolds beneath the rising sun is much the same as it was when the farm was established in 1735.
In November, Byrom will have spent 16 years on the property, which has been called Headquarters Farm since the early 19th century. He's dedicated a lot of that time to preserving the historic nature of the farm, right down to how he raises his flock. They've been cross-bred over the years to create the Headquarters Farm Romney/Romeldale/Jacob breed. Their pens are arranged similar to how they would have been on an 18th century-farm.
Byrom also raises and finishes his lambs and sheep – about 200 in all – on grass, rotating them among his farm and several pastures throughout Delaware Township and the surrounding communities. "I have quite a few friends in the area who don't have the time or resources to farm themselves, but they love to look out at sheep grazing in their fields," he says.
"It takes a lot of time, hard labor, and commitment to manage a flock the way it was done back then," Byrom says. "But at the same time, there's also great joy in seeing dawn on the farm. And there's no doubt it's all worth every ounce of energy I've put into it."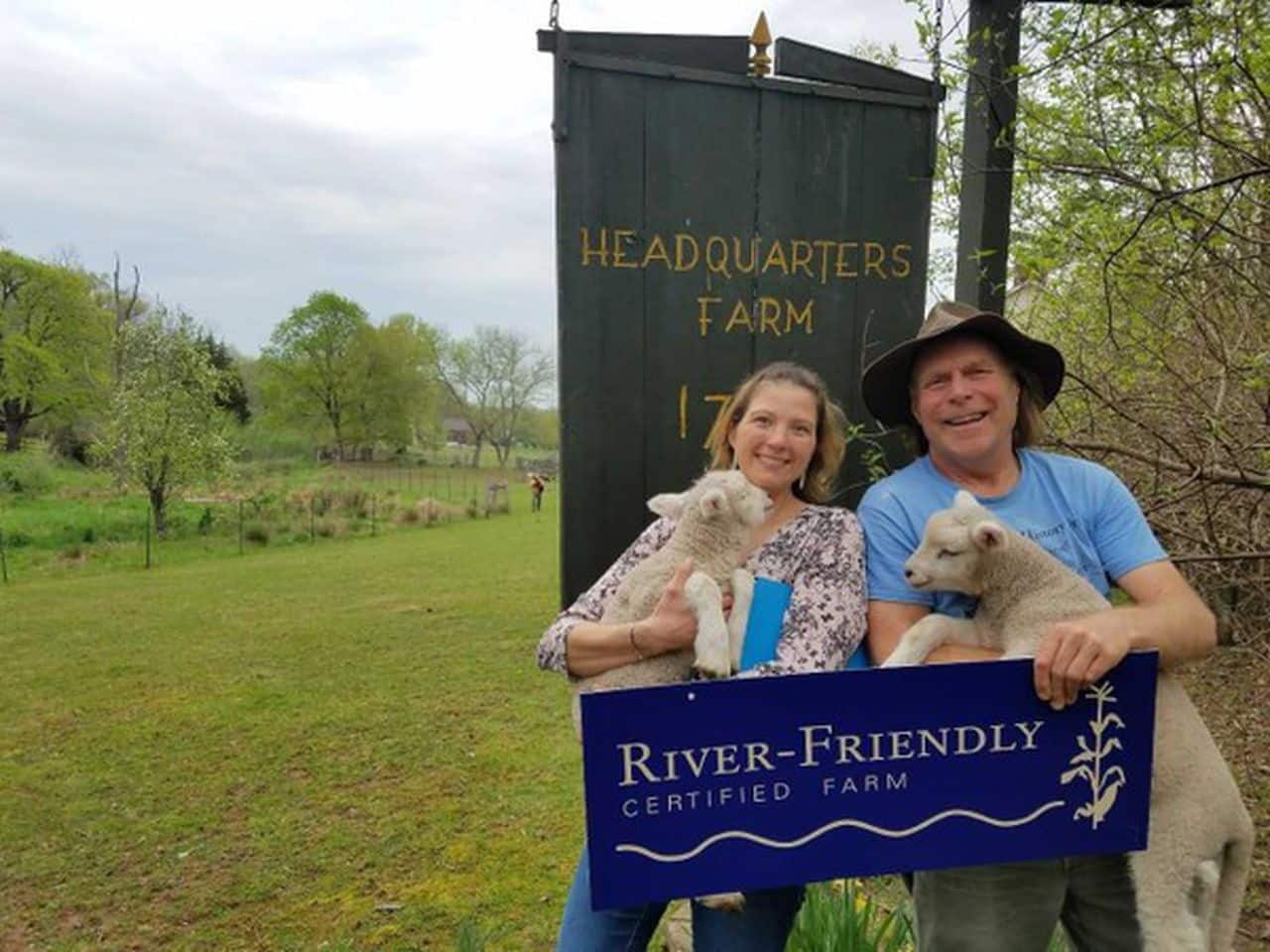 Headquarters Farm represents life coming full circle for Byrom. He grew up in northwest England, a rural region where sheep farmers were common. He earned an economics degree at The London School of Economics before relocating to New York City. Since the late 1980s, he's been the CEO of a branding and creative agency.
The farm is what lured Byrom to Delaware Township. The stone farmhouse dates back to 1758. He's furnished it to make it look – and feel – as it originally did. There's also a mill that hasn't worked for a long time, but the machinery is largely intact.
In recent years, Byrom bought two neighboring properties, which grew Headquarters Farm to 30 contiguous acres. (The original farm was 500 acres.) As important to him as the land is, he's just as interested in what's on it: the mill's water supply, a mill pond, and the mill race. Now that he has all the parts necessary for a functioning mill, he plans to reconnect them, eventually, and reopen the mill for educational purposes.
The Delaware Township Historical Society held one of its meetings in the mill in 2006. Later, Byrom told The Delaware Township Post, "One of our neighbors came to that meeting, and she said, 'I've waited 58 years to step inside this mill." And she was pleased that there was still something to see."
In May 2019, the New Jersey Resource Conservation and Development Council certified Headquarters Farm as a "river-friendly farm." Byrom applied to the council's River-Friendly Farm Certification Program eight years earlier in an effort to learn about and integrate practices that protect the natural resources of his land, through which the Neshanic River runs.
"I'm proud of the designation," Byrom says. "One, because it's rare. I think mine is one of only 25 farms to have it. And two, because the creeks have really flourished as a result."
The deeper his roots have grown in Delaware Township, the more Byrom has developed a sense of responsibility for preserving the community. Its latest threat, he says, is coming from within.
In the November general election, Delaware Township voters will be asked whether they want to allow the township's open space trust fund to be used for the "development and improvement of municipal lands solely for recreation and conservation purposes." Currently, the fund can only be used to acquire land.
Byrom believes if the measure passes, the township committee could deplete the fund at a time when it's needed most.
"It's not unreasonable to ask if this fund is still relevant," he says. "Personally, I have a lot of friends in the township who will be aging out of farming in the near future, and their kids don't want to take over their farms. When the time comes, the only choice they may have is to sell their farms to developers.
Byrom endorses reserving the open space trust fund for the acquisition of farms' development rights so that it can continue to draw supplemental funding from county, state, and federal programs, as well as nonprofit land preservation groups.
"So many of us who call Delaware Township home moved here because we love the open land," Byrom says. "But if we approve this referendum, we're essentially saying we don't want to put in the effort to preserve them."
Learn more about Headquarters Farm here.