We all have our holiday traditions. Maybe yours is seeing "A Christmas Carol" at the Bucks County Playhouse and gazing at the New Hope Christmas tree, all done up in lights. While we're being to avoid such indulgences this season, some holiday rituals endure, repurposed for online viewing.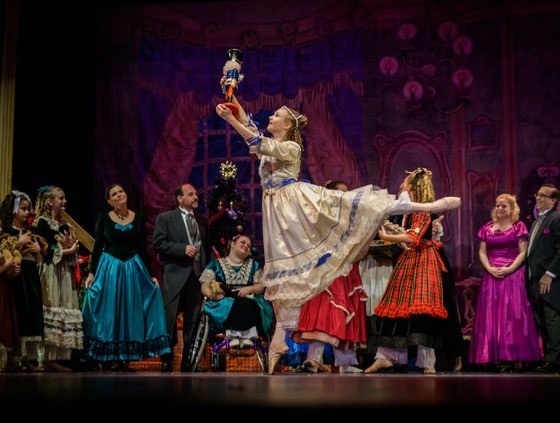 Each year, this production by the Lambertville dance company feels more and more special. For one, its enormous cast is a blend of professional dancers with serious pedigrees and little ballerinas- and actors-in-the-making. For another, tickets are relatively inexpensive. Combined, they make Roxey's "Nutcracker" one of the most accessible performances around.
And yet, nothing about it says "amateur." The costumes are brilliant, the sets are elaborate, and the special effects—yes, there are special effects—aren't clunky or distracting. Not to mention, the story itself continues to be relatable. And that's why, if you looked out into the audience on any given night, you'd find a lot of little faces watching their first ballet.
This year, the Roxey Ballet Company is offering the opportunity to stream a pre-recorded performance of "The Nutcracker" for $99.99. While that may sound a bit steep, the one-time purchase affords unlimited screenings through January 1. (If you're a parent of a child who adores Frozen, you'll appreciate just how valuable that is.)
You'll also gain access to a bunch of bonus material, including interviews with the cast, a "Sugar Plum Fairy Adventure" dance class series for kids, and rehearsal footage. And you'll be able to view the company's "Women of the Year" choreographic showcase at no additional cost.
To buy the link, go here.
The Bucks County Playhouse is presenting "A Christmas Carol" through Jan. 3. The production has no local ties. Rather, it was staged exclusively for this streaming event by one of Broadway's most imaginative directors, Michael Arden, who directed the Tony-winning best revival, "Once on this Island," and the Tony-winning actor, Jefferson Mays, star of "I Am My Own Wife" and "A Gentleman's Guide to Love and Murder."
If you're missing live theater, The Los Angeles Times said of Arden's "A Christmas Carol," "For true theater lovers, there can be no better gift this season."
It's available on demand for $50. To rent the link, go here.