If you haven't seen it for yourself yet, you've probably at least heard of ArtYard in Frenchtown. Maybe it was by way of a friend who caught a screening of Rashomon, which was paired with a one-act chamber opera back in June. Or maybe you caught a video of one of the pop-up choir concerts somewhere on social media.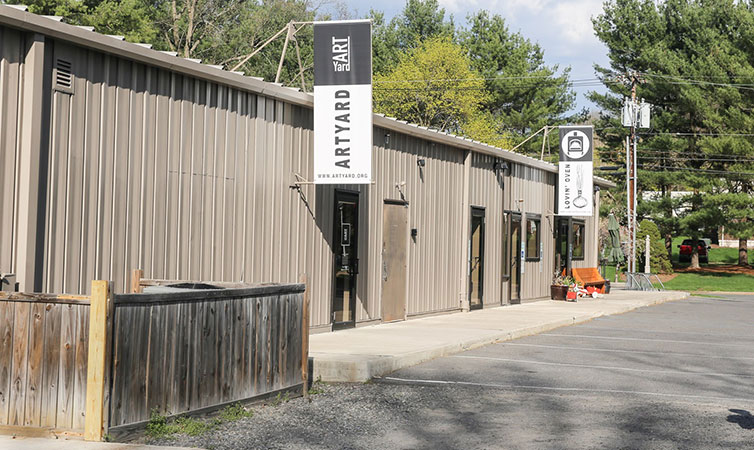 Whatever your introduction was, rest assured that your first impression is probably pretty on-target. ArtYard is quickly making a name for itself by staging the kind of arty-but-inclusive stuff that no one else around here is. Which is a bit odd when you think about it because the Delaware River towns are a region whose reputation is built on the arts and inclusiveness.
ArtYard opened three years ago, but it was decades in the making. Founder Jill Kearney spent much of her fruitful, creative career with the seed buried somewhere in her conscience, never too far from her stream of thoughts. "What I was building in my imagination was a communal place, a home for art and ingenuity, much like the one I grew up in in Chicago, where my parents ran an art center out of a former dairy processing factory," she said.
Out of excuses why she shouldn't do it, Kearney formed a nonprofit and bought three buildings in Frenchtown: a derelict egg hatchery, a warehouse-type space next to Lovin' Oven, the popular farm-to-table restaurant, and the one-time home of the headstone carver for the Frenchtown cemetery. The spaces are fairly unremarkable, but that was Kearney's idea. To her, accessibility is more valuable than a marquee location.
"We wanted to be an ordinary public space, a yard in lieu of a museum, where art is invented, ideas exchanged, relationships forged," she said. "We wanted to demystify art, to invite different communities to collaborate, and we committed ourselves to the notion that creative collaboration is a critical component of civic life."
To boil the ArtYard's philosophy down to a single sentence: "No one is more qualified to make art than anyone else," Kearney said.
Admirable as that is, it's also helped that Kearney has well-connected friends. For its inaugural exhibit, Chris Langhart, once the technical director of Woodstock and the Filmore East, helped construct a temporary movie theater. And movie producer Bill Horberg (Milk, The Kite Runner, Cold Mountain) is curating the film program.
So, while Kearney and Co. are making every attempt to make ArtYard by and about the river towns and Frenchtown, specifically, it's hardly grassroots fare.
If you're looking for a chance to jump in and get to know ArtYard for yourself, check out The Unlikely Whole, a group exhibition of modern art that runs through December 30. After all the divisiveness, it's deeply reassuring to see that all the parts don't need to fit together perfectly for there to be unity.
---
For more information about great Delaware River Towns events, please view our calendar.