It's that time of the year again. School is back in session. Sundays are filled with football. Pumpkin spice coffee is freely flowing and the days have begun to cool down. Autumn is upon us, and that means beautiful, vivid, inspiring fall foliage throughout the Delaware River Towns. If you are looking for a great spot to enjoy a breathtaking view, we have you covered.
Washington Crossing Historic Park
This historic 500-acre state park was founded in 1917 and is currently maintained by the Friends of Washington Crossing Park in collaboration with the Pennsylvania Department of Conservation and Natural Resources. It was here on Christmas night in 1776 that General Washington led the historic crossing of the Delaware River. The successful maneuver helped turn the tide of the Revolutionary War.
The views are stunning and the landmarks are numerous. We highly recommend a visit.
Bowman's Hill Tower
Also a part of Washington Crossing Historic Park but located 4.5 miles away in New Hope Bowman's Hill Tower is a fall foliage favorite. The structure was built from 1929-31. The 125-foot tall tower sits atop Bowman's Hill and offers an amazing view of the Delaware River. The scenic landscape can stretch for up to 14 miles on a clear day.
Nockamixon Cliffs
Rising 300 feet above the Delaware River Valley Nockamixon Cliffs' dramatic views are sure to please. Home to an arctic-alpine plant community uncommon to the continental United States this park is a must visit. Top Rock, has a reputation as the best lookout point. The birdwatching is also excellent. Be on the lookout bald eagles, osprey and peregrine falcons.
The Devil's Tea Table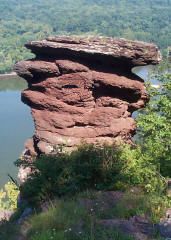 Located Kingwood Township, New Jersey and sitting 350 feet above the river the Devil's Tea Table overs more than mesmerizing views. The strange and unusual rock structures found along this section of the Delaware River Bluffs have long caught visitors attention. Especially the formation dubbed the Devil's Tea Table. Legend says that a Native American Chief, Big Mountain, was fond of the lookout point. His jealous enemies murdered him here, and with his last breaths, he vowed his spirit would protect the location.
Goats Hill Overlook
A fairly short hike that leads to a clearing where the Delaware River, New Hope, and Lambertville sit picturesquely below. Described as a low commitment outing with a high payoff. Pack a picnic and enjoy the view.
Prallsville Mills
Stockton's Prallsville Mill contains historic buildings, a human-made waterfall, and a spectacular view of the Delaware River and the D&R Canal. Visiting when the artists with studios on-premise are open is highly recommended. Visitors will have to travel a very short distance to be able to enjoy the scenery.
Wherever you are around Delaware River Towns, chances are you will be able to appreciate the fall foliage and scenery. However, if you want to experience the area in all of its glory give one of the above places a visit.
Check out our event calendar for more seasonal events from around the Delaware River!
We would love to help you get your local event published on Delaware River Towns Local. Please supply our team with your event information below and we can start the process. If you feel like you need some more help with promotion of your event,
Trinity Web Media
can assist with that, so please
drop us a line
.